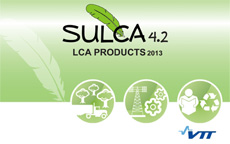 SULCA software allows the user to perform Ecodesign and various kinds of Life Cycle Assessments (LCA). With SULCA, the environmental, carbon and water footprints can be calculated in a transparent and user-friendly way. Tool supports the evaluation of sustainability and environmental performance of a product,process, technology or any other system.
Sustainability assessment researchers at VTT Technical Research Centre of Finland focus on the sustainable management and performance of new products and technologies or find ways to improve existing ones. In its research activities, VTT uses a unique tool called SULCA (formerly known as KCL-ECO – versions up to 4.1). This software has been developed by Sustainability & ICT -specialists. The software – already sold for use over 15 countries – is employed by industry, universities, research institutes, and others.
SULCA  software allows the user to perform life-cycle inventory (LCI) and impact assessment (LCIA) calculations, as well as to present the calculation results in a comprehensible manner through its unique reports and charts supporting the interpretation of the results.
See also: SULCA versions information.
Along SULCA products are available SULCA services and add-on possibilities as well as SULCA model building.